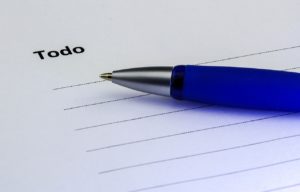 One of the biggest reasons why people feeling stressed, overwhelmed, and burned out is that they are too accommodating — when faced with clamouring demand for their time and attention.
The fact is you have only so much time and energy and the demands of modern life is constantly increasing.  It's very easy to get caught up.  Adding to it is the never-ending desires for more.  You want more money, better house, and praises from your boss.
Wanting more is not wrong, but it can be stifling.
Not only that!  When you want more, you're disappointed if what you get is less.  You don't feel fulfilled.  You feel deprived having to settle for less.
What if you start with less?  It can make your day entirely different.
Starting your day by focusing on only what matters most.
Cut down your to-do list for the day to only the tasks that are important.  At the same time, limit the number of the tasks you have to perform to only what you can accomplish.
Then, ignore the rest.
"But I've so much to do …" you may say.
This is alarming.  If you have to add things you can't accomplish to the task-list, it's a symptom of unrealistic demand on yourself.  There's an allusion as to what you can do and this warrants a serious review of your work and life arrangement — before problems are snowballed.
Start by wanting less for the day, and get the essential accomplished.  If you can do this, chances are you feel fulfilled by the end of the day.
What if you still have more time and energy?  You can choose to do more.  In this case, you feel rewarding — rather than stressed — when you get to do more.
Start the day by wanting less is powerful because it gets the important done.  At the same time, you can scale up without feeling the anxiety and stress.
This is the power of wuwei or non-doing.